Welcome to Youth Soccer in Marblehead.  We thank you for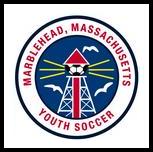 your support of the players and organization.
Fall 2014 Registration Update
All Intramural and Clinic programs are open for Fall 2014 registration.  The deadline to enroll is Friday, August 29.  Practices for U10-14 will start the week of September 1 with games beginning Sept 6/7.  Intramural teams will be announced just after Labor Day.  U7 and U8 Clinics will start in mid-September.
Previous updates (6.19.14)
Successful seasons for the U12 Girls Militia and U16 Girls United ended on Saturday at the ECYSA Tournament in the semi-finals.
The U14 Girls Hurricanes play tomorrow in the Finals after winning 4-1 against the Swampscott Nightmare.  The Hurricanes play against the Triton Thunder at 11:00.  Good luck Hurricanes.
The U12 Boys Cannons and Revolution teams qualified for the tournament as well, but lost in the first round.
Congratulations to the five Marblehead travel teams who played in the tournament!
Previous post (6.6.14)
U10 Intramural Round Robin Tournament schedules have been posted to the Intramural page.  Good luck players!
Notifications for Fall 2014 travel teams will be distributed in the third week of June.  Exact dates to follow….
Previous post (5.7.14)
Fall 2014 travel tryout dates/times have been posted to the Travel page.  We encourage all U12 and U14 players to try out, as well as U10 players who will be in U12 in the Fall. Please check the birthdate ranges if you have questions about your player's age group.  Note that U14 program is now travel-only in the Fall, so all players must attend a tryout.
Join MYSA in supporting the Pass It Forward program, an equipment and apparel drive led by former MYSA player and current Varsity soccer team member Jack Garrett.  Information and collection dates/times are detailed on the Pass It Forward page.
Previous post (4.28.14)
Tryout dates and times for Fall 2014 Travel soccer teams are currently being finalized.  They will be posted later this week.  Dates will be May 10 & 11 and May 17 & 18 in the afternoon.  More to come….
Previous post (4.8.14)
Registrationfor the U7 Clinic program ends on April 19.  Visit our registration page to get started.
The season practice grid has been posted.
Previous post (3.27.14)
U10 Intramural registration closed on Sunday, March 23.  The Intramural coaches meeting is scheduled for Thursday, April 3 at 7:30 p.m. (Marblehead Community Center)
Because the U7 Clinic program starts two weeks later (April 26), registration is open until April 12.  Visit the Registration page to get started now.
Additional news on the upcoming season is posted on our Program Updates page and the 2013 Calendar is now available.
If you are interested in learning more about our programs, please visit our Clinic (for children in first and second grade), Intramural and Travel pages.
Sincerely,
MYSA