Please join MYSA in supporting PASS IT FORWARD, a community service project led and organized by Jack Garrett, past MYSA player, current MHS student and Varsity soccer team member. 
PASS IT FORWARD:  2nd Annual Soccer Clothing & Equipment Collection Drive
What:  Collection Drive of New and Gently Used, Clean Soccer Clothing and Equipment* 
Who: All donated items will be delivered to the Cleats for Kids program for distribution to an underserved soccer community some place within the world.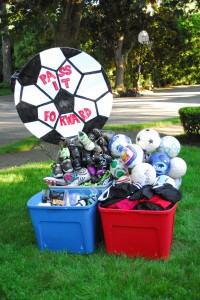 Equipment: Soccer balls; soccer shin pads; goalkeeper's gloves; water bottles; soccer bags; indoor soccer shoes; and soccer cleats (if gently used, please clean off dirt)
Clothing: Non-MYSA soccer jerseys; soccer shorts; soccer socks; soccer T-shirts; soccer hats; soccer jackets; soccer sweatshirts; and soccer training sweatsuits (please, all freshly laundered and without tears)
When & Where: 
Village School
Saturday, May 10th and Sunday, May 11th, 9:00 a.m. – 5:00 p.m.
Saturday, May 17th and Sunday, May 18th, 9:00 a.m. – 7:00 p.m.
Please drop off all items on the left side of the Village School access road, right after the Front Lower Village Field, near the bend and playground. Please place the items in the bins provided. 
Sunday, June 1st, 4:00- 7:00 p.m. (Upper Village Field, during all travel team tryouts)
The bins will be at fall travel team tryouts
Marblehead High School- Piper Field (during fall travel team tryouts)
Saturday, May 17th,3:30 – 6:30 p.m.
Saturday, May 31st, 3:30 – 6:30 p.m.
The bins will be available at the fall travel team tryouts at Piper Field. 
*If the item is torn, broken, or excessively dirty, please do not donate it for the collection. Cleats for Kids requests new and clean, gently used items only.
For more information, please contact Jack at CGarrettMA@aol.com.
Thank you for your support!