What is your Intramural program?
Intramural soccer programs are available for each of the fall and spring seasons.
In the fall, all players (with the exception of Grade 7/8) may play intramurals in separate Girls and Boys leagues.  Grade 2 teams practice once per week while Grade 3/4 and 5/6 teams practice twice per week.  They all play a game each weekend against another intramural team here in Marblehead.  Grade 5/6 Girls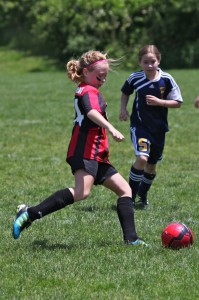 and Boys intramural and Grade 3/4 Boys intramural play Saturday afternoons.  Grade 3/4 Girls intramural play on Sunday afternoons.  Grade 2 Girls and Boys play on Saturday mornings.  The season typically runs eight weeks over a nine week period, as games are typically not scheduled over Columbus Day weekend.
In the spring, only Grade 3/4 players play intramurals.  Our Grade 7/8 and Grade 5/6 age groups play travel soccer in the Essex County Youth Soccer League.  A few dozen Grade 3/4 players who tried out the previous fall are chosen to play spring travel soccer.  Spring Grade 3/4 Intramural Boys play on Sunday afternoons and Intramural Girls play on Saturday afternoons in the spring season.  The season typically runs eight weeks over a nine week period, as games are typically not scheduled over Memorial Day weekend.
How does your Clinic program work?
An instructional soccer clinic is offered to Kindergarten and Grade 1 players in the spring and in the fall.  The clinic runs for six weeks with five weeks of instruction and small games and a season ending "tournament" session in week six, where the players compete in a series of small-sided games and celebrate with ribbons and a treat at the conclusion.  Parent volunteers are a key part of this program.  No coaching or soccer experience is necessary.  Professional soccer instructors lead the practices and also work with the volunteer coaches.  Sessions last about 75 minutes each week and are held on Saturday mornings at Tower school.
Details about the approach and goals of the clinic program are included in the MYSA CLINIC PROGRAM OUTLINE.
What is your Travel program like?
Our teams, ranging from Grade 3 to 10, play in the Essex County Youth Soccer Association league.  Usually half a team's games are home games and the other half are played on the road throughout Essex County.  Our Travel program differs from spring to fall.  The spring is our principal travel program.
Selection – Teams are constructed based on multiple factors, including performance during a required tryout, coaches' evaluations, selection committee observations and attendance during the current season.  (Players are not required to have participated the previous season to be eligible for a travel team the next season.)
Spring Travel – Grade 7/8 and Grade 5/6 players participate in Travel teams in the spring.  There are no intramural programs for these age groups.  For Grade 3/4, a small number of boys and girls (typically 35-40) participate in Travel.  Grade 2 players are ineligible to play travel in the spring season.  Tryouts for spring Travel are held the preceding fall, usually in mid- to late-October.
There are opportunities for players, as well as parent coaches and other parent volunteers, to continue their MYSA participation beyond the Grade 7/8 age group. Parents, players and coaches interested in taking a lead role and helping to form and support Grade 9/10 and Grade 11/12 spring travel teams are encouraged to contact the MYSA VP of Boys or VP of Girls by early October. The October timeline is important in order to allow team organizers enough time for team planning and organizing efforts, as well as for player registrations to be completed by early December.
Fall Travel – The Fall program is typically smaller.  All Grade 7/8 players participate in Travel (no Intramural).   Grade 5/6 will have both Travel and Intramural programs.  Grade 3/4 only offers Intramural in the Fall.  Players who play Fall Travel are encouraged to also play Fall Intramural to further develop their skills, though it is not required.  Tryouts are held in the end of the Spring season (typically in mid- to late-May).  Note that in the fall season (not the spring), children who are the top of the Grade 3/4 group "age up" to Grade 5/6, and those at the top of Grade 5/6 "age up" to Grade 7/8.  There is no Grade 3/4 travel program in the fall, only in the spring.
If you have additional questions about our travel program, please contact us at marbleheadsoccer@gmail.com
What are the age deadlines?   Are there any exceptions?
Marblehead Youth Soccer has adopted a grade-based league structure in alignment with the recent changes implemented by Essex County Youth Soccer, which is taking guidance from Massachusetts Youth Soccer.  Players will now play in teams organized by grade level rather than the previous August 1 to July 31 age range.  Players must be born "on or after January 1st" to qualify for a specific grade level, or an exception request must be approved.
In some cases players may PLAY UP if requested, though MYSA does not recommend this approach.  It is typically utilized when a player is in the appropriate age range but a lower grade (e.g. player started school later, or repeated a grade).
We cannot allow players to PLAY DOWN to a lower age group for any reason, with the exception being the Clinic program for Kindergarten and 1st Grade children.  If you have any questions about this policy, please email marbleheadsoccer@gmail.com.
Are uniforms or equipment required?
Our K & Grade 1 Clinic and Grade 2 Intramural programs provide t-shirts for all players.  Players should wear shin guards, sneakers or soccer cleats, black socks and black shorts.  We provide the balls and all instructional equipment.
Our Grade 3/4 and 5/6 Intramural and Travel programs, as well as Grade 7/8 Travel programs, all wear our official town uniform which consists of a red and black soccer jersey and black shorts.  All of these players also need to wear shin guards, black socks and soccer cleats.    The uniforms are available new at Athletic Enterprises, as are shin guards and cleats.  Uniforms may also be ordered online at www.athleticenterprises.net but we recommend calling if there are questions about sizes.
Please note that MYSA does not wear player names on our uniforms, and number requests are not available, as our vendor manages the number assignments to minimize duplication.
Is financial aid available?
No player will be turned away for inability to pay.  We offer a family discount where the maximum any family need pay is the fee for two children.  Anyone seeking financial assistance with registration fees is asked to complete the registration process online and send along a note in confidence to the Registrar at marbleheadsoccer@gmail.com   We also can arrange financial assistance for the uniform if that presents a hardship.
Do you play on rainy days?
Decisions about the schedule for any given day of the season are made in concert with town officials and on field officials.   We frequently are forced to make a decision early in the day before the complete weather or field picture is known.   To see the most up-to-date field status updates follow the links in the right hand panel, which includes a link to Marblehead town field status as well as Essex County town fields (for away travel games).
When it comes to Clinic or practice cancellations we frequently are able to send an email to the groups involved announcing a cancellation.  We do generally play in light rain.  When  games are cancelled it is typically due to standing water on the fields, poor field conditions or lightning.  Player safety is always a top priority.
Who is in charge?
MYSA is run by a volunteer Board of Directors and officers elected by the Members of the Corporation each year.  There are more than 60 Members comprised of coaches and other volunteers past and present.  The organization generally meets three to four times per year at the Marblehead Community Center.
Teams are coordinated by gender.  There is a gender Vice President who manages age coordinators for each age group.  The Girls VP, for instance, has a Girls Grade 7/8 coordinator, a Girls Grade 5/6 coordinator, a Girls Grade 3/4 coordinator and a Girls Grade 2 coordinator.  The Boys side mirrors this.   Any questions about your child's program should be directed to the coordinators and escalated to the VP's if necessary.    The age coordinators are responsible for recommending coaches, placing children on teams, managing the schedule, and managing the tryout process for the travel program.
In addition to the gender VP's we also have a VP of Technical Development who coordinates training for our volunteer coaches and our referees, and arranges for the scheduling of our professional coaching resources.    We also have a VP of Travel who coordinates our communication with the ECYSA, and a VP Administration & Treasurer who coordinates the administrative (registration, purchasing, etc.) functions.   Our Secretary keeps track of communicating with all of the above and our President makes sure everyone does their job.